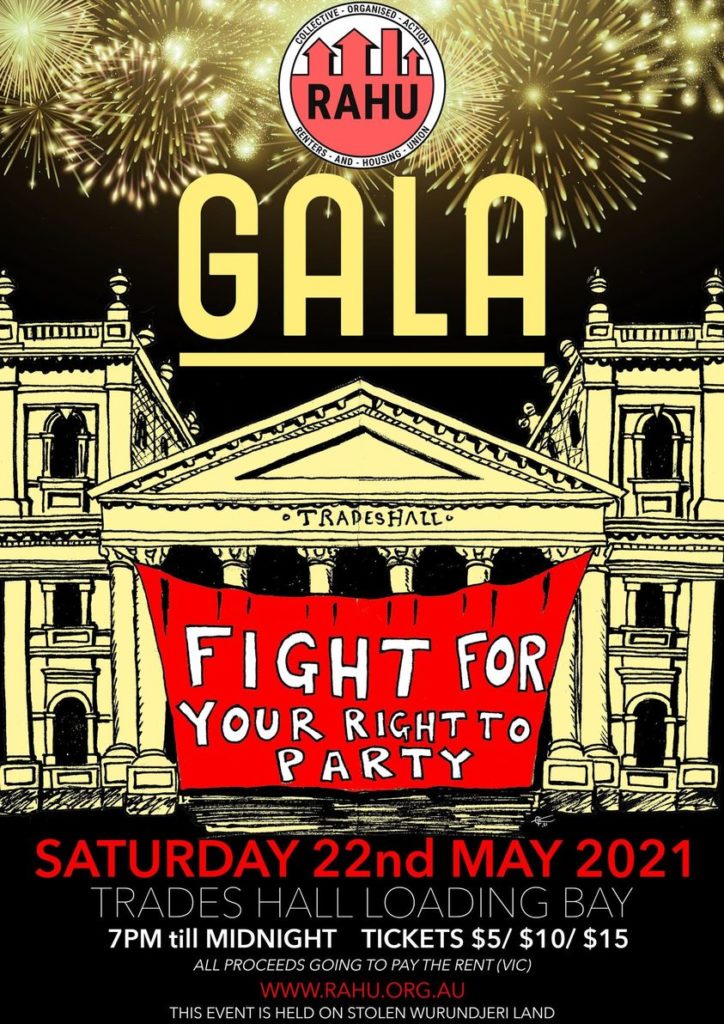 RAHU is turning one, and to celebrate we're having a party!! Put on your finest proletarian threads and let's get down like we're about to overthrow the bourgeoisie. No landlords allowed.
The night will include some of our favourite local bands, DJs, and an awards ceremony with categories like Melbourne's worst Real Estate Agent, most outrageous landlord renovation job, and others to be announced.
Come celebrate the incredible first year we've had, the amazing things we've accomplished together, and the solidarity our members have grown with one another.
LINEUP:
Nat Harris & Ange Hart (MCs)
Rachel Short (DJ, 3RRR)
Simon Winkler (DJ, 3RRR)
Sophie Weiner (DJ, Plurletariat/The Robyn Party)
The Double Dole Stringband (live)
Tickets: $15 for non-members, $10 for members, $5 for everyone unwaged. Free entry for First Nations peoples and temporary visa holders.
Ticket link: here
All money raised after covering event costs will be donated to https://paytherent.net.au/ as part of RAHU's ongoing commitment to engaging with the continued struggle for decolonisation.
Accessibility Info: The venue is on the ground floor, with no steps in any area. The doorway entrance is approx. 3 metres wide at ground level. The event room will have indoor gas heaters Toilets: There are 2 sets of 2 un-gendered cubicle toilets, accessed with a metre ramp leading up to them The bar: is approx. 1.2 metres high, and barstaff are visible from a seated position. Lighting: There will be fairy lights, low lighting and projected light, however there won't be strobe lighting Noise: sound system and speakers for electronic music and amplified live music from the stage. Seating: Plenty of seating will be available on the night. If you have any questions, or there's details we've missed, please feel free to contact [email protected]