Roofs For Ransom – 12 Month Report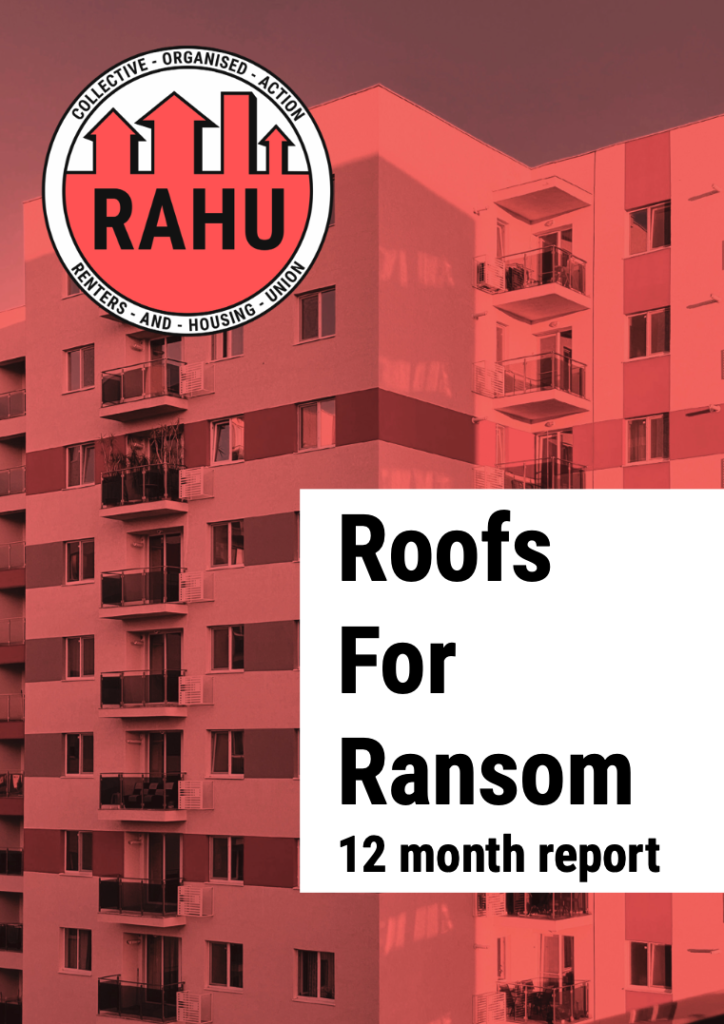 Executive Summary
An analysis of RAHU casework notes identified a number of major reasons why renters had sought RAHU assistance, as well as the key demographic groups represented in our casework.
Rental Stress
91% of renters were in rental stress. The average percentage of income spent on rent was 67% across all cases.
Across all cases where the rental amount charged was recorded, the average monthly rent per person was $1,163.45.
Cases involving renters ineligible for government income assistance – especially those with Temporary Visa status – were overrepresented in RAHU casework.
Rental Debt
59% of cases involved rent reduction claims.
Breaches by Landlords and Real Estate Agents
31% of cases reported unprofessional behaviour by Real Estate Agents.
In 4 cases renters received threats of violence or experienced physical or verbal violence from their landlord.
Terminations and Evictions
84% of cases involving termination proceedings or unlawful eviction were initiated before the eviction moratorium was set to expire on March 29 2021.
Impact Statement

In the 12 months since its foundation the Renters Rights Support Team has handled a total of 84 cases involving 146 claims.
This amounted to a total of $139,947.16 of debt to those involved. $126,775.20 of this debt was resolved in favour of our members by negotiating rent reductions, debt waivers, preventing rental increases, or claiming bonds. Some of these cases are still pending resolution.
| | |
| --- | --- |
| Rental Debt Waived | $74,246 |
| Rent Reduction Amount Saved | $33,208 |
| Total Bonds Saved | $12,238 |
| Rental Increase Saved | $3,915 |