Pride in Housing Solidarity
Fleeing from your queerphobic family to unaffordable, insecure housing is an experience shared by many RAHU members – including myself. Unfortunately, escaping a queerphobic family doesn't guarantee safety; queer friendly housemates are difficult to find, and affordable solo accommodation doesn't exist.
At the intersection of queerphobia and capitalism, LGBTQI+ folk are disproportionately affected by housing insecurity. Most queer people will never be homeowners, stuck renting – or homeless – for life. A study by the Housing for the Aged Action Group (HAAG) found that 80% of non-LGBTI people owned a home by 65, compared to only 41% of LGBTI people.
One in five young trans Australians have experienced homelessness or otherwise unstable housing. The 2020 Federal Parliamentary Inquiry into Homelessness found that lesbian and gay people are twice as likely to stay in crisis accommodation or sleep rough, and bisexuals three times more likely.
Forms of public assistance and other 'safety nets', like social housing organisations, have been known to discriminate against queer people. A survey of 228 LGBTIQ+ people by HAAG found that "even when land is not fit for habitation or unsuitable for an older person (e.g. no running water, electricity and in some cases, shelter), LGBTI older people have been denied access to social housing and forced to either reside in unsuitable accommodation on their land or in private rental."
Two queer people known to the Union were pressured to move out at ages 17 and 18 on account of their homophobic and transphobic parents. Both ended up in unsafe work in order to pay rent, and one had to drop out of school. It's stories like these that help us to contextualise the ubiquitous differential in housing insecurity and homelessness data that emerges in the research.
For queer people, the threat of queerphobia/transphobia introduces another level of precarity to the existing uncertainty of sharehousing. Recently. A RAHU member had to self-evict because of transphobic housemates – following this, they were unable to get off the lease (i.e. living elsewhere but still in debt to the real estate agency), and consequently were cut off from receiving rent assistance.
Queerphobic housemates can leverage the power imbalances that make renting unsafe for everyone; if they kick you out, they can force you into a position of financial and occupational insecurity from having to relocate (this can become a cycle), or leave you out on the street. Alternatively, if your only option is to stay, they can deprive you of your sense of feeling safe at home, as well as your sense of identity.
Many queer people in Naarm may be familiar with the Facebook group Queer Housing Melbourne. This group, and the many others like it, reflect the need for queer solidarity in housing action, because many of us can't afford to take a shot in the dark. Inevitably, public platforms that operate as 'queer spaces' are not inherently safe, and in some cases these groups are precisely what expose vulnerable people to exploitation and predatory behaviour. While queer housing groups are an important way for queer people to network, the necessity of visibility inherent in participation comes with its own set of dangers. The hypervisibility of trans and gender diverse folk in many of these groups create the possibilities for danger that the groups are intended to mitigate – targeted harassment, and the risk of unsafe housing.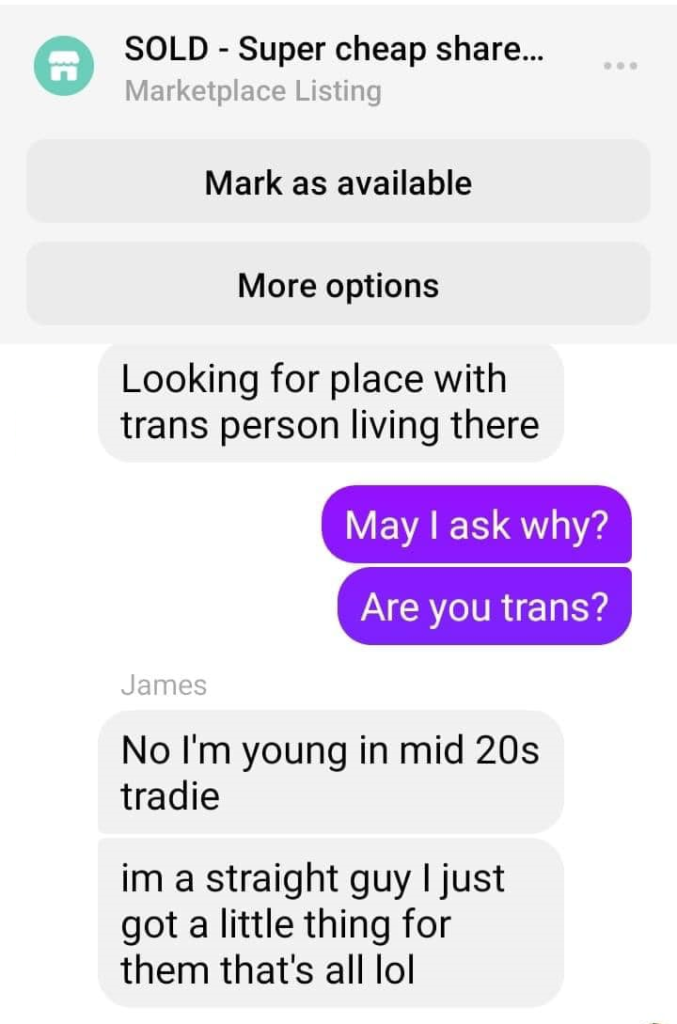 The fight for affordable housing matters here because it's a fight for autonomy and security for queer people. Queer renters should be able to live securely by themselves, or have the financial freedom to choose who they live with.
As a Union, we do this by knowing and asserting our existing rights as renters, and campaigning for better housing. As a Union, we are committed to the fight for queer and trans rights, to disarm the power of landlords, the state, and others to undermine our safety, security, and identity.
With solidarity and pride we can have safer, secure, affordable, and queer as fuck housing for all.

References
Walton R., York F. (October 2020). "Out of the Closet, Out of Options", Housing for the Aged Action Group
Strauss, P., Cook, A., Winter, S., Watson, V., Wright Toussaint, D., Lin, A. (2017). "Trans Pathways: the mental health experiences and care pathways of trans young people." Telethon Kids Institute, Perth, Australia.
McNair R., Andrews C. (2020). "Federal Parliamentary Inquiry into Homelessness." Pride Foundation Australia submission.