Events are posted to our Facebook page and are also listed below.

Local Meetings
RAHU is forming local branches to help renters organise, support one another, and build our local neighbourhoods. Come and meet your fellow renting neighbours to build local networks
We'll be discussing renters rights, eviction defense and goals for a local branch.
There will be snacks provided, info pamphlets and other resources to take home!
Past Events
RAHU Online Forum – Housing Justice after Lockdown
Join RAHU in partnership with 3CR Community Radio and special guests from Support Network for International Students (SNIS) and Homes Not Prisons for an open discussion on organising beyond the pandemic, for community solidarity and housing justice.The pandemic exposed and exacerbated pre-existing failures in housing justice, renting and policy in Victoria, which endured one of the world's longest lockdowns — but organisations like RAHU created both structural pressure and individual support, as well as a roadmap to more secure and fairer housing in Australia.
Speakers:
Eirene Tsolidis Noyce – Secretary, Renters and Housing Union
Ness Gavanzo – Interim Coordinator, Support Network for International Students
Sara Stilianos – Steering Group member, Homes Not Prisons
Priya Kunjan – Broadcaster, 3CR Thursday Breakfast & Women on the line
Followed by a Q&A with guests from RAHU's Renters Rights Support Team
Organiser Training 101
We are running training for RAHU members who want to get skilled-up to:
Talk to friends and neighbours about housing issues
Get people to come to meetings and actions
Join folks up to the Union
Generally get more confident in doing RAHU community-building stuff
Don't worry, it will be fun! There will also be food
Details:
Saturday, June 11th, 11am – 4pm
Kathleen Syme Library
251 Faraday St, Carlton
Drinks & snacks provided
RAHU Phonezap
RAHU is calling for your help to phone your local MP to demand that the COVID19 Rental Moratorium is immediately reinstated.
When?
Thursday, June 10th, 11am-1pm
Online on Zoom
RSVP to join us in the call, and we'll get in touch with Zoom link on the day
RSVP to the RAHU Phonezap
RAHUGALA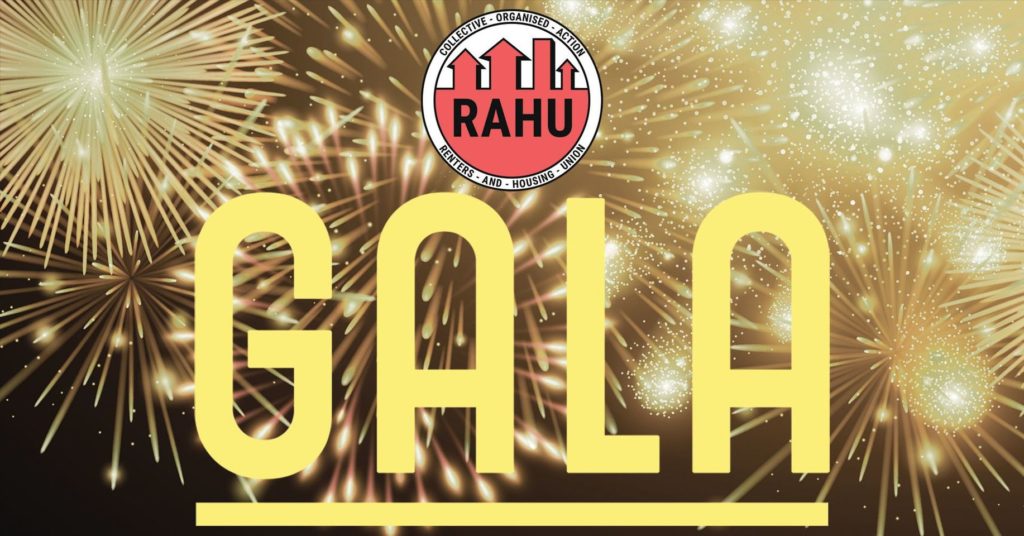 Come along and celebrate our first birthday on the 22nd of May, 7PM til Midnight, at the Trades Hall Loading Bay!
More information here
Facebook event.
Ticket Link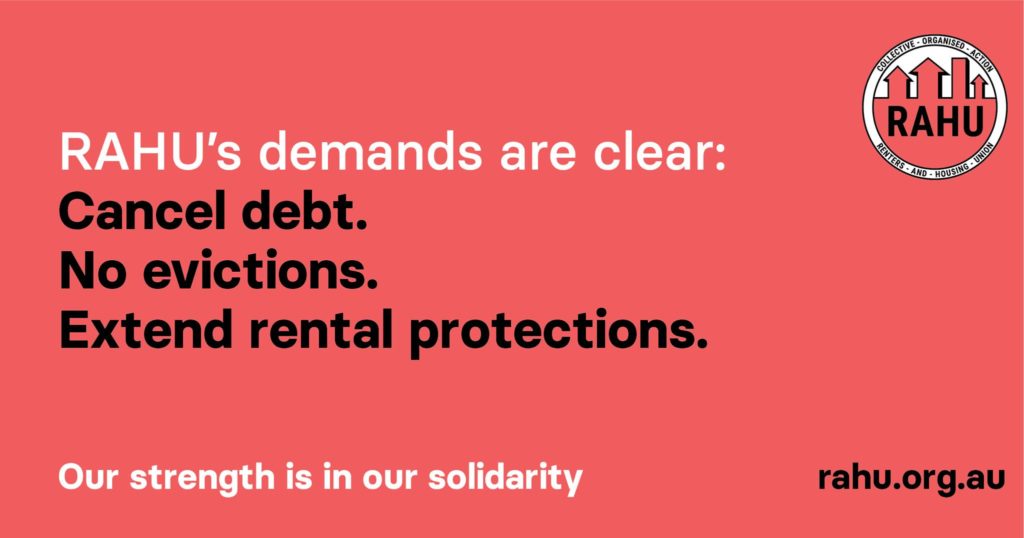 RAHU Rally Against Evictions
Sunday, March 28th, 12pm – Parliament, Spring St
RSVP to Facebook Event here
Northside Local Meeting
Thursday, 18th March, 6pm-7.30pm
Clifton Park, Brunswick – Google maps location here
RSVP on Facebook here
RAHU is forming local branches to help renters organise, support one another, and build a powerful neighbourhoods. This meeting will discuss how we'll be doing that in the Northern suburbs – come along and get involved! We'll discuss renters rights, eviction defense and goals for the branch
There will be snacks. Look out for us in the undercover area at Clifton Park, Brunswick
Westside Local Meeting
Thursday, 18th March, 6.30pm-7.30pm
West Footscray, 2 min walk from Tottenham Station – Google maps location here
Contact us to RSVP: [email protected]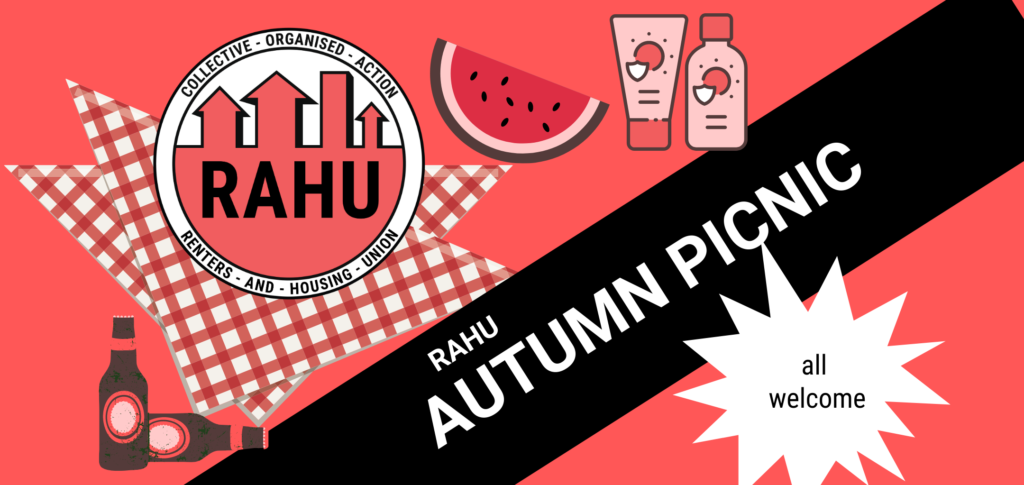 RAHU Autumn Picnic
Saturday, 20th March, 3pm-11pm
Flagstaff Gardens – Googlemaps location here
RSVP on FB Event here
Grab your blankets, face masks, favourite food, bevs, your righteous sense of solidarity, and come hang out with fellow RAHU members!We're having a little Covid-safe get together to celebrate the beginning of this new (hopefully better) year, and you're all invited. We'll provide some snacks, blankets and chats, so all you need to bring is the good vibes (and also snacks and blankets if you like).
We'll be hanging out from 3pm until late, come say hi!

CBD Renters Rights Information Night
Wednesday 10th March at Flagstaff Gardens 5:30pm – 7:00pm
Come and meet your neighbours and fellow renters! These info nights are a chance to catch up with renters in our neighbourhood and workshop ideas together about what our rights are, and how we can fight back.
Have you had to deal with your agent or landlord:
asking for exorbitant tenant transfer fees
not using qualified trades to carry out repairs
threatening you with eviction
not giving back your bond
asking for excessive personal information
showing up unannounced
issuing unreasonable rent increases
We'll be workshopping common issues together, and discussing how we can better stand up for our rights. We'll also have RAHU pamphlets with information on a variety of issues faced by us as renters for you to take home. The workshop is open to anyone, but we especially welcome people who are based in the CBD & Inner Suburbs.
This event will be held at Flagstaff Gardens and snacks will be provided. Be sure to bring a jacket in case it gets chilly. In the event of terrible weather, this event will be updated to an alternative venue indoors.
This event takes place on unceded lands of the Kulin Nation. We pay our respects to Boon Wurrung elders and ancestors past and present, and acknowledge that while this land was stolen, their sovereignty was never ceded.