HOUSING AUSTRALIA FUTURE FUND – A WHOLE LOTTA NOTHING
FOR IMMEDIATE RELEASE: 25 June 2023
On 9 February 2023, the Albanese Government introduced the Housing Australia Future Fund bill (HAFF), a bill intended to increase access to affordable and social housing. The HAFF seeks to create an investment fund rather than directly creating additional housing and is, like all investments, a gamble. We at RAHU do not see this as a solution, as it does little to practically and measurably address the acute national housing crisis.
The Greens sought to add an amendment to HAFF that would add $5 billion per year toward social housing. They were negotiated down to a one-off $2 billion lump sum investment, called the Social Housing Accelerator. RAHU members reject this amendment and are disappointed not only in the lack of annual investments but in the Greens' commitment to social – not public – housing.
When introducing the bill for its second reading, the Minister for Housing, Julie Collins, said the point of the bill is to "turn a page on a decade […] of failing to address Australia's housing affordability challenges." The goals outlined by the Minister are lofty but the bill, as proposed, does little to address them.
The HAFF seeks to introduce an investment account that provides loans to those who are approved while demanding repayment without providing information on what that would look like.
The HAFF also seeks to erode access to genuine public housing while promoting the concept of 'social housing' – taking control away from the public sector and placing it in the hands of private housing organisations.
In that same speech, the Minister said the government intends to build thirty-thousand homes across the country over five years. Though welcome, this is a tiny proportion of homes needed to address the large and growing demand for affordable housing. If nothing else changes today to make housing more accessible, this measure would not solve the crisis in our lifetimes.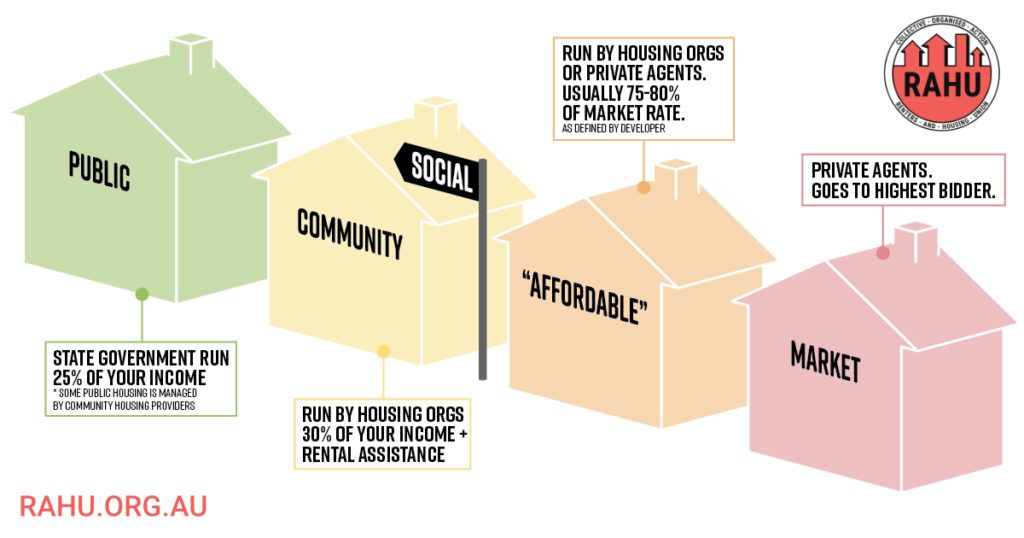 Market Housing: Privately owned, rents are set at the discretion of the landlord or their appointed real estate agent. Prices aren't regulated, each state has different rules.
Public Housing: Owned and run by state governments, often with long leases. Rent is capped at 25% of household income. Not influenced by market rates.
Social Housing: A term that encompasses both public and community housing.
Affordable Housing: Either: housing that is less than 30% of a household's income or a for-profit housing scheme masquerading as a public good, where rents are set at a percentage of market rate with strict eligibility criteria.
Community Housing: A government-funded housing scheme designed to be owned and run by not-for-profit groups. Rents are capped at 30% of income, on top of any Rent Assistance, and the schemes often have strict eligibility criteria.
---
J.R. Hewitt
Media and Communications Officer
Contact: [email protected]

The Renters And Housing Union (RAHU) is Australia's largest member-run Union of renters and people in precarious housing. We collectively organise for the right to safe and secure housing through self-advocacy, education, and frontline eviction defence.

Find out more and join RAHU https://rahu.org.au/